With the rapid development of science and technology, the quality of our life is constantly improving, and intelligent robots are gradually entering our lives. Whether at home or away, we can always see all kinds of robots, and what attracts people is their appearance. Today we will talk about the color of the robot shell.
Miyabi have also made many robot shells and received unanimous recognition from customers and friends. Everyone knows that the materials we make the shell are mainly made of fiberglass, and the advantages of fiberglass must be remembered by heart. In fact, FRP products also have great advantages in terms of the color of the robot shell.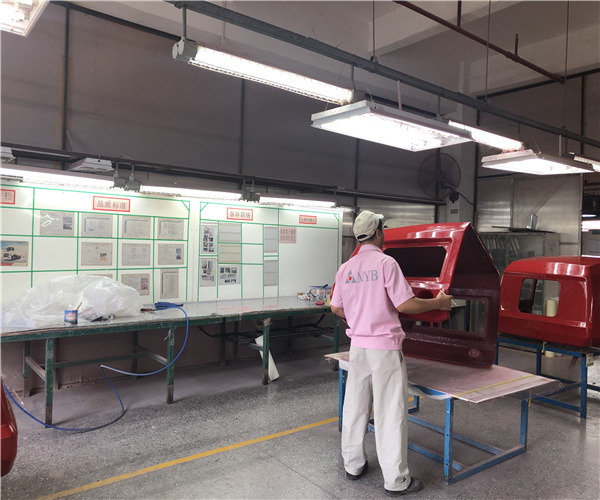 FRP products also have advantages in robot shells. Friends who are familiar with the manufacturing process of glass fiber reinforced plastics know that the steps we take to make fiberglass products are: mold preparation-spray coating-layering-cutting-repair-quality inspection-packaging and shipping. Among them, the relevant step to determine the color of the robot shell is "spraying gel coat" (Note: This article only discusses the fiberglass robot shell on the gel coat surface).
Customers and friends who have visited our factory have seen the products we make, and it is the surface of the gel coat of our products that can attract them all at once. In the gel coat room, our gel coat masters with many years of experience spray the colored gel coat evenly on the inner surface of the mold. The color of the gel coat is like an artist's paint and can be toned according to the needs. We can use the color paste to precisely mix the color of the robot shell that the customer wants according to the customer's needs.
Of course, regarding the surface of the gel coat, we not only meet the customer's requirements in terms of shell color, but also mature polishing technology, so that the outer surface is as bright as a mirror, and the color and texture of the outer surface combine to achieve a good appearance. It is also enough to show that Miyabi has worked hard on the color and surface texture of the robot shell.
Not only the workshop, but our sample room also displays products in various colors. These various products are the results of Miyabi research and hard work.