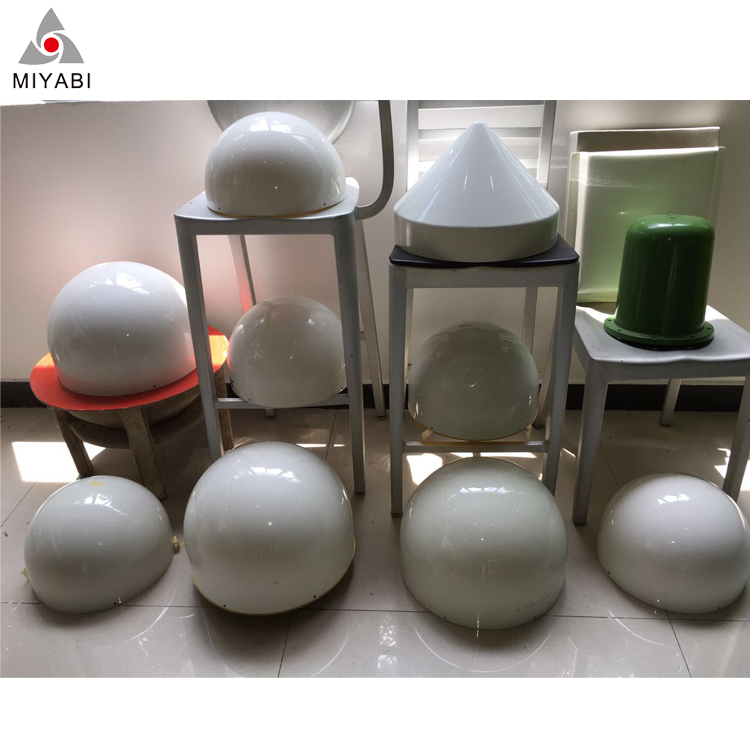 The fiberglass radome is a structure that protects the antenna system from the external environment. It has good electromagnetic wave penetration characteristics in electrical performance, and can withstand the effects of external harsh environment. Outdoor antennas are usually placed in the open air and directly affected by storms, ice, snow, dust and solar radiation in nature, resulting in reduced antenna accuracy, shortened life and poor operational reliability.
Therefore, the radome is needed to protect the antenna.
1、 The FRP radome is not deformed and the geometrical dimensions remain stable for a long time. Therefore, the equipment will not seep into the water due to the deformation of the FRP protective cover, and it is not necessary to install more screws during assembly to maintain the appearance.
2、FRP radome itself is resistant to UV absorption, aging, high temperature resistance, crack resistance, corrosion resistance, weather resistance. The radome is used under long-term exposure or between -50 and 100 degrees without changing the physical properties and dielectric constant.
3、 Adding auxiliaries on the surface of the FRP radome enhances the adhesion between them, so that the surface paint will not fall off and wrinkle even in harsh weather conditions, and maintain color for a long time.
4、good electrical insulation, strong wave permeability.
5、FRP radome substrate not only uses high-performance resin, but also uses "high-strength alkali-free fiberglass cloth" (this fiberglass cloth is specially formulated to make various physical properties (such as impact strength) , bending strength, tensile strength, tensile modulus) is much higher than the physical properties of ordinary alkali-free fiberglass cloth and medium-alkali cloth.
6、FRP radome has light weight, excellent wave transmission performance (transmission rate of more than 98%), various shapes and specifications (such as tapered glass reinforced plastic radome and spherical glass reinforced plastic radome) can be customized, can be suitable for a variety of demanding The environment and other characteristics have been widely used in aviation, aerospace, navigation, communications, meteorology and other fields.
The above is the combing of the protective effect of the radome of the Miyabifrp, and I hope to help everyone.