The radome is a structure that protects the antenna system from the external environment. The radome has good electromagnetic wave penetration characteristics and can withstand the external harsh environment. Outdoor antennas are usually placed in the open air and directly affected by storms, ice, snow, dust and solar radiation in nature, resulting in reduced antenna accuracy, shortened life and poor operational reliability. The use of FRP antenna cover can play the role of insulation anti-corrosion, lightning protection, anti-interference, durability, etc., and the wave transmission effect is very good, which is the most ideal material for the antenna cover.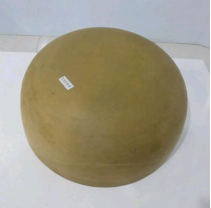 The wave-transparent material is a kind of multi-functional dielectric material which is rapidly developed in recent years, which is a multi-functional dielectric material with integrated structure, heat prevention and wave transmission. It is a structural material with very small dielectric loss. When electromagnetic waves encounter a certain material during propagation, If the intensity of the transmission is greater than a certain limit, the material can be regarded as a highly permeable material. In terms of material nature, it is characterized by a small dielectric constant and a dielectric loss tangent. Fiberglass materials can be used as radomes and antenna windows for a variety of aircraft, missiles, spacecraft, satellite and ground stations, and as high-performance printed circuit board substrates, in aerospace, electronics, communications and other fields. Important role, with very important economic and social benefits.
The wave-transparent materials are generally classified into two types: one is an inorganic material such as alumina, silica, glass ceramic, silicon nitride, boron nitride, and the like; the other is a heat-resistant resin-based fiber composite. Dongguan Miyabi FRP Co., Ltd. mainly analyzes the wave-transparent composite materials.
First, the radome commonly used wave-transparent composite materials
The wave-transparent composite is a functional composite composed of a matrix and a reinforcement. It is the most widely used glass fiber reinforced resin matrix composite in practice.
1, the substrate
The wave-transparent composite material is composed of a reinforcing fiber and a resin matrix, and the electrical properties of the two are good to form a wave-transparent material with good electrical properties. Generally, the mechanical properties and dielectric properties of the reinforcing material are superior to those of the resin matrix, so the wave-transparing properties of the composite material mainly depend on the properties of the resin matrix. Therefore, it is necessary to select a resin matrix having excellent electrical properties, and the resin also functions as an adhesive in the composite material, which is an essential component for determining the heat resistance of the composite material.
The resin matrix mainly includes conventional unsaturated polyester resin (UP), epoxy resin (EP), modified phenolic resin (PF), and cyanate resin (CE), silicone resin, and double which have been researched and applied in recent years. New high temperature resistant resins such as maleimide resin (BMI), polyimide (P1), and polytetrafluoroethylene (PTFE).
2, reinforcement
At present, glass fiber is mostly used, and the reinforcing materials used in domestic wave-transparent composite materials are mainly E glass fiber and S glass fiber, and M glass fiber is used less. Kevlar was originally invented by DuPont of the United States, and Canada has used it for aircraft radomes. Spectra1000 exhibits excellent dielectric properties at all frequencies, and its low density, high strength, high modulus and high impact resistance make it extremely attractive for the manufacture of high performance radomes.
Second, the main application of the radome
It is mainly used in the ultra-long-range precision tracking radar radome with the largest diameter, and the highly precise tracking radar radome.
Guide radome, warning radome, weather radome, thin-walled ground radome,
Mobile communication base station radome, car radome and many other fields. Dongguan Miyabi FRP Co., Ltd. can customize processing according to user requirements such as wave transmission and size. At present, it has cooperated with many domestic institutions, and the product quality has reached the requirements of various national military standards.
The main advantages of the company's products:
1. The FRP radome will never be deformed, and the geometric size will remain stable for a long time.
2, strong weather resistance: anti-corrosion, anti-UV, anti-aging, anti-shock, good performance in harsh environments such as high temperature, low cold, more suitable for a variety of complex environments.
3. Adding auxiliaries on the surface of the FRP radome enhances the adhesion between them, so that the surface paint will not fall off and wrinkle even in harsh weather conditions, and maintain color for a long time.
4, good electrical insulation, strong wave permeability.
5, light weight, processing, transportation and installation is convenient.
6, the appearance is exquisite, high-grade, good texture.
7. FRP radome has long service life (general design life is 20 years), easy to install and low cost (the specific gravity is only 1/4 of carbon steel, no need to move fire during construction, single length can reach 6 meters, even Longer), easy to cut, no need for maintenance and other advantages.
The radome technology produced by Dongguan Miyabi FRP Co., Ltd. combines the knowledge of materials, technology, mechanics, electromagnetics, aerodynamics and structural mechanics. It is very difficult to design and manufacture. The company has four R&D centers, specializing in research and development of key basic materials, structural design, computer model simulation, and key processes, providing a solid backup force for product manufacturing. The company has established a multi-window complementary, all-round tracking, multi-step integration enterprise management model. Establishing industry-university-research cooperation with a number of scientific research units at home and abroad, and constantly introducing new technologies, new materials and new processes, so that the core technology of the enterprise can always occupy the high end of the industry.