The several Features of high-quality glass FRP radome doomed the glass curtain wall to almost zero interference to point waves. That is why the 4G and 5G eras use a large number of glass curtain walls as the primary material for ground base station curtain walls.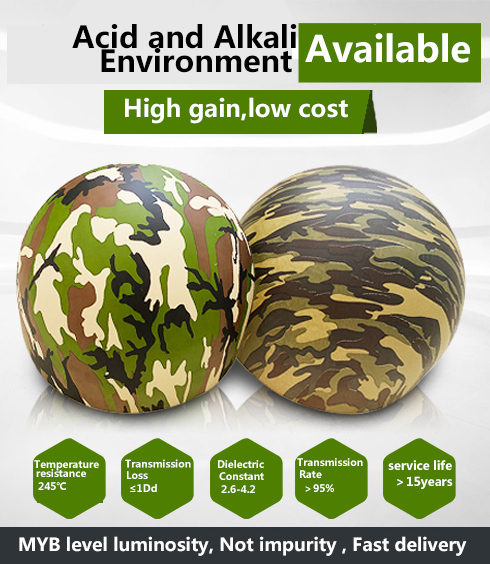 1. Firstly , The high quality FRP radome beautifies and covers the antenna. That can ensure that the signal transmitting power not reduced. So the glass curtain wall material hardly attenuates wireless signals.
2. Secondly ,The installation of high-quality FRP radome is safe.The high-quality glass antenna landscaping cover can resist wind, earthquake and thunder.When designing, we should fully consider various site conditions. Ensure that the structure is not dangerous, and the installation and maintenance are convenient.
3. Thirdly , the beauty of the FRP radomes. The optimized glass radome can be integrated into the surrounding building environment, so that people cannot feel the presence of the antenna.
4. The fourth is the durability of high-quality FRP radome. The material has high strength, bending strength up to 170Mpa. Can maintain good physical properties in rain and snow weather, high temperature resistance, corrosion resistance, weather resistance (lifetime) basically more than 15 years.
5. Fifth, The maintenance. Adjust the directional angle and downtilt angle of the antenna, and reserve a certain position . That is convenient for adding more antennas and connecting feeders.
6. Sixth, the beautification of the glass curtain wall is economical and reasonable. In terms of antenna beautification, economic benefits should be considered, and radome products with strong versatility, simple structure, and low prices should be selected as much as possible.
Other properties of high-quality FRP radome:
Outdoor antennas generally work outdoors. Natural storms, ice and snow, sand and dust, solar radiation and other factors will reduce the accuracy of the antenna, shorten the life span, and work reliability.